THE EXPERIENCE OF ENTECAVIR USE IN PATIENTS WITH HEPATITIS B VIRAL INFECTION ON AN OUTPATIENT BASIS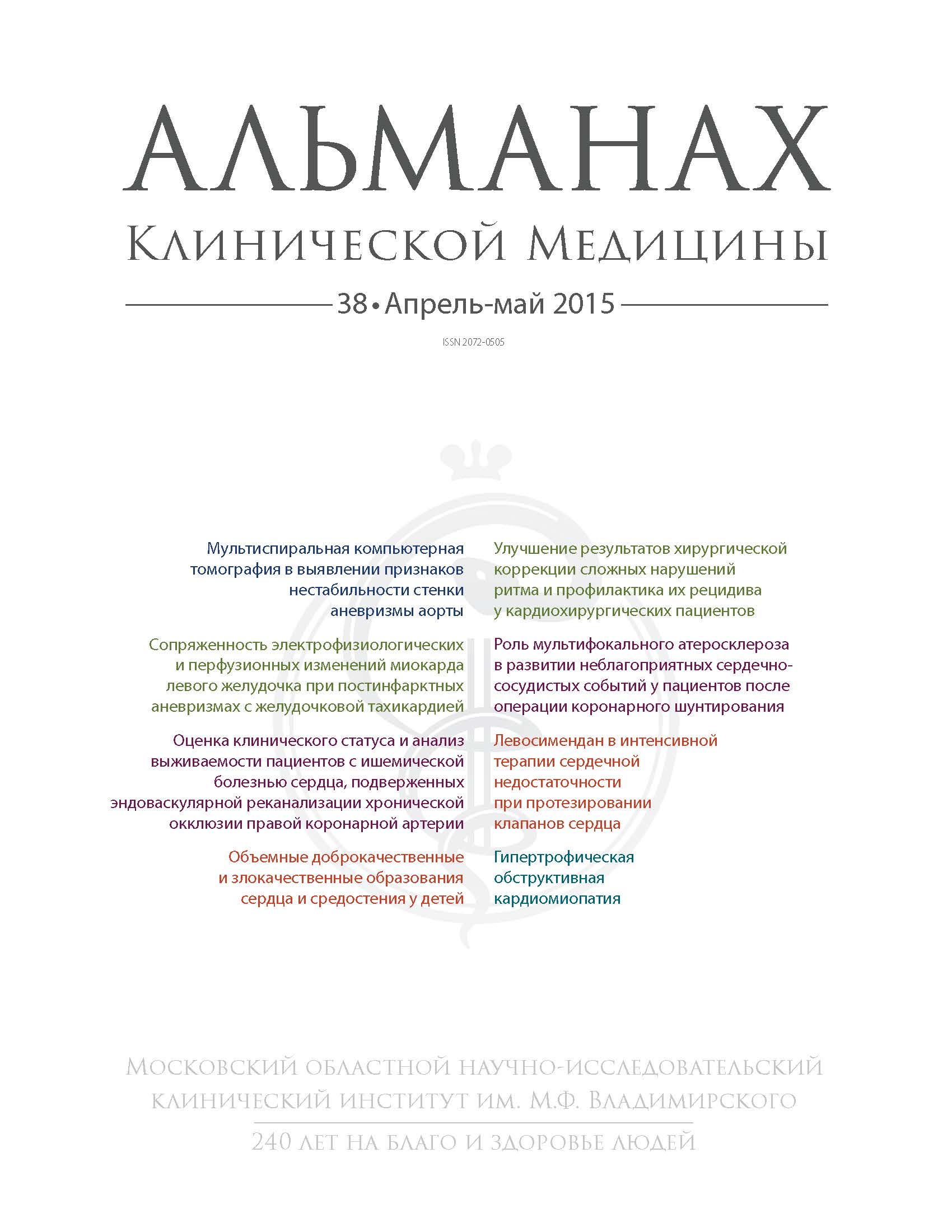 Authors: Mel'nikova L.I.1, Il'chenko L.Y.2
Affiliations:

The Central Medical Unit No. 165 of the Federal Biomedical Agency of Russia, Moscow
Chumakov Institute of Poliomyelitis and Viral Encephalitides, Moscow

Issue: No 40 (2015)
Pages: 90-100
Section: ARTICLES
Cite item
Abstract
Aim: To evaluate retrospectively the efficacy and safety of entecavir in treatment-naïve patients with hepatitis B viral infection.
Materials and methods: Based on patient medical documentation, we analyzed the results of clinical, virologic and instrumental assessment of 36 patients with chronic hepatitis B, 6 of whom were HBeAg-positive, and 1 had a highly active progression of acute hepatitis B. Duration of entecavir therapy (at a dose of 0,5–1 mg daily) was 48 weeks.
Results: In most patients with chronic hepatitis B, treatment with entecavir, regardless of the HBeAg status, promoted a virologic response (94.4%) and HBeAg serum conversion with anti-HBe formation (83.3%), which was associated with a clinical improvement, normalization of liver enzyme activity, reduction of liver fibrosis by 1 point (assessed by fibroelastometry). There were no changes in serum HBsAg during the antiviral therapy. A clinical case of successful entecavir therapy of hepatitis B viral infection is presented.
Conclusion: Entecavir is a highly effective and reliable agent that can suppress viral replication in various forms of acute and chronic hepatitis B viral infection. A relatively rapid recurrence of viral replication after withdrawal of the drug justifies further research to optimize treatment of chronic hepatitis B.
Keywords
About the authors
The Central Medical Unit No. 165 of the Federal Biomedical Agency of Russia, Moscow
Author for correspondence.
Email: ilchenko-med@yandex.ru
Mel'nikova Lyubov' Ivanovna – PhD, Head of Department of Infectious Diseases Russian Federation
Chumakov Institute of Poliomyelitis and Viral Encephalitides, Moscow
Email: ilchenko-med@yandex.ru
Il'chenko Lyudmila Yur'evna – MD, PhD, Professor, Head of Department of Viral Hepatites Russian Federation
References
Zhou Y, Holmes EC. Bayesian estimates of the evolutionary rate and age of hepatitis B virus. J Mol Evol. 2007;65(2):197–205.
Hadziyannis SJ, Papatheodoridis GV. Hepatitis B e antigen-negative chronic hepatitis B: natural history and treatment. Semin Liver Dis. 2006;26(2):130–41.
Manesis EK. HBeAg-negative chronic hepatitis B: from obscurity to prominence. J Hepatol. 2006;45(3):343–6.
Hunt CM, McGill JM, Allen MI, Condreay LD. Clinical relevance of hepatitis B viral mutations. Hepatology. 2000;31(5):1037–44.
Fattovich G. Natural history of hepatitis B. J Hepatol. 2003;39 Suppl 1:S50–8.
McMahon BJ. Epidemiology and natural history of hepatitis B. Semin Liver Dis. 2005;25 Suppl 1:3–8.
Raimondo G, Allain JP, Brunetto MR, Buendia MA, Chen DS, Colombo M, Craxì A, Donato F, Ferrari C, Gaeta GB, Gerlich WH, Levrero M, Locarnini S, Michalak T, Mondelli MU, Pawlotsky JM, Pollicino T, Prati D, Puoti M, Samuel D, Shouval D, Smedile A, Squadrito G, Trépo C, Villa E, Will H, Zanetti AR, Zoulim F. Statements from the Taormina expert meeting on occult hepatitis B virus infection. J Hepatol. 2008;49(4):652–7. doi: 10.1016/j. jhep.2008.07.014.
World Health Organization. Guidelines for the prevention, care and treatment of persons with chronic hepatitis B infection. MARCH 2015. World Health Organization; 2015. 134 p. Available from: www.who. int/about/licensing/copyright_form/en/index.html
Воробьев ПА, Чуланов ВП, Телегина ИВ, Борисенко ОВ. Анализ воспринимаемой ценности при реализации стратегии лечения больных хроническим гепатитом В препаратом энтекавира. Инфекционные болезни. 2011;9(3):5–12.
Niederau C. Chronic hepatitis B in 2014: great therapeutic progress, large diagnostic deficit. World J Gastroenterol. 2014;20(33):11595–617. doi: 10.3748/wjg.v20.i33.11595.
Dooley JS, Look ASF, Burroughs AK, Heathcote EJ, editors. Sherlok's diseases of the liver and biliary system. 12th edition. WILEY-BLACKWELL; 2011. 771 p.
Ayoub WS, Keeffe EB. Review article: current antiviral therapy of chronic hepatitis B. Aliment Pharmacol Ther. 2011;34(10):1145–58. doi: 10.1111/j.1365-2036.2011.04869.x.
Santantonio TA, Fasano M. Chronic hepatitis B: advances in treatment. World J Hepatol. 2014;6(5):284–92. doi: 10.4254/wjh.v6.i5.284.
European Association For The Study Of The Liver. EASL clinical practice guidelines: Management of chronic hepatitis B virus infection. J Hepatol. 2012;57(1):167–85. doi: 10.1016/j. jhep.2012.02.010.
Lok AS, McMahon BJ. Chronic hepatitis B: update 2009. Hepatology. 2009;50(3):661–2. doi: 10.1002/hep.23190.
Liaw YF, Leung N, Kao JH, Piratvisuth T, Gane E, Han KH, Guan R, Lau GK, Locarnini S; Chronic hepatitis B Guideline Working Party of the Asian-Pacific Association for the Study of the Liver. Asian-Pacific consensus statement on the management of chronic hepatitis B: a 2008update. Hepatol Int. 2008;2(3):263–83. doi: 10.1007/s12072-008-9080-3.
Koumbi L. Current and future antiviral drug therapies of hepatitis B chronic infection. World J Hepatol. 2015;7(8):1030–40. doi: 10.4254/wjh.v7.i8.1030.
Dienstag JL. Hepatitis B virus infection. N Engl J Med. 2008;359(14):1486–500. doi: 10.1056/NEJMra0801644.
Lampertico P, Soffredini R, Vigano` M, Minola E, Cologni G, Rizzi M, Zaltron S, Vavassori A, Castelli F, Angeli E, Gubertini GA, Magni C, Rizzardini G, Testa A, D'Offizi G, Vinci M, Pinzello G, Fatta E, Fargion S, Colombo S, Fracassetti O, Del Poggio P, Coco B, Brunetto MR, Andreoletti M, Colli A, Fasano M, Santantonio T, Colloredo G, Pasulo L, Fagiuoli S, Colombo AE, Bellati G, Milanese M, Strazzabosco M, Pozzi M, Terreni N, Spinzi G, Quagliuolo M, Borzio M, Lunghi G, Facchetti F, Invernizzi F, Colombo M. 5-year entecavir treatment in NUC-naive, field-practice patients with chronic hepatitis B showed excellent viral suppression and safety profile but no prevention of HCC in cirrhotics. J Hepatol. 2013;58(1):S306–7 [abstract 755].
Ye XG, Su QM. Effects of entecavir and lamivudine for hepatitis B decompensated cirrhosis: meta-analysis. World J Gastroenterol. 2013;19(39):6665–78. doi: 10.3748/wjg.v19. i39.6665.
Tenney DJ, Rose RE, Baldick CJ, Pokornowski KA, Eggers BJ, Fang J, Wichroski MJ, Xu D, Yang J, Wilber RB, Colonno RJ. Long-term monitoring shows hepatitis B virus resistance to entecavir in nucleoside-naïve patients is rare through 5 years of therapy. Hepatology. 2009;49(5):1503–14. doi: 10.1002/hep.22841.
Chen CF, Lee WC, Yang HI, Chang HC, Jen CL, Iloeje UH, Su J, Hsiao CK, Wang LY, You SL, Lu SN, Chen CJ; Risk Evaluation of Viral Load Elevation and Associated Liver Disease/Cancer in HBV (REVEAL–HBV) Study Group. Changes in serumlevels of HBV DNA and alanine aminotransferase determine risk for hepatocellular carcinoma. Gastroenterology. 2011;141(4):1240–8. e1–2. doi: 10.1053/j.gastro.2011.06.036.
Chan HL, Tse CH, Mo F, Koh J, Wong VW, Wong GL,Lam Chan S, Yeo W, Sung JJ, Mok TS. High viralload and hepatitis B virus subgenotype ce arassociated with increased risk of hepatocellular carcinoma. J Clin Oncol. 2008;26(2):177–82.doi: 10.1200/JCO.2007.13.2043.
Chen CJ, Yang HI, Su J, Jen CL, You SL, Lu SN, Huang GT, Iloeje UH; REVEAL-HBV Study Group. Risk of hepatocellular carcinoma across a biological gradient of serum hepatitis B virus DNA level. JAMA. 2006;295(1):65–73.
Lin CL, Kao JH. Hepatitis B virus genotypes: clinical relevance and therapeutic implications. Curr Hepatitis Rep. 2013;12:124–32. doi: 10.1007/s11901-013-0166-6.
Zoulim F, Carosi G, Greenbloom S, Mazur W, Nguyen T, Jeffers L, Brunetto M, Yu S, Llamoso C, Zoulim F, Carosi G, Greenbloom S, Mazur W, Nguyen T, Jeffers L, Brunetto M, Yu S, Llamoso C. Quantification of HBsAg in nucleos(t) ide-naïve patients treated for chronic hepatitis B with entecavir with or without tenofovir in the BE-LOW study. J Hepatol. 2015;62(1):56– 63. doi: 10.1016/j.jhep.2014.08.031.
Reijnders JG, Rijckborst V, Sonneveld MJ, Scherbeijn SM, Boucher CA, Hansen BE, Janssen HL. Kinetics of hepatitis B surface antigen differ between treatment with peginterferon and entecavir. J Hepatol. 2011;54(3):449–54. doi: 10.1016/j.jhep.2010.07.046.
Громова НИ. Эффективность противовирусной терапии больных ХГВ. Инфекционные болезни. 2012;10(1):15–20.
Tillmann HL, Zachou K, Dalekos GN. Management of severe acute to fulminant hepatitis B: to treat or not to treat or when to treat? Liver Int. 2012;32(4):544–53. doi: 10.1111/j.14783231.2011.02682.x.