ENDOVASCULAR TREATMENT FOR DISORDERS OF THE VENOUS SYSTEM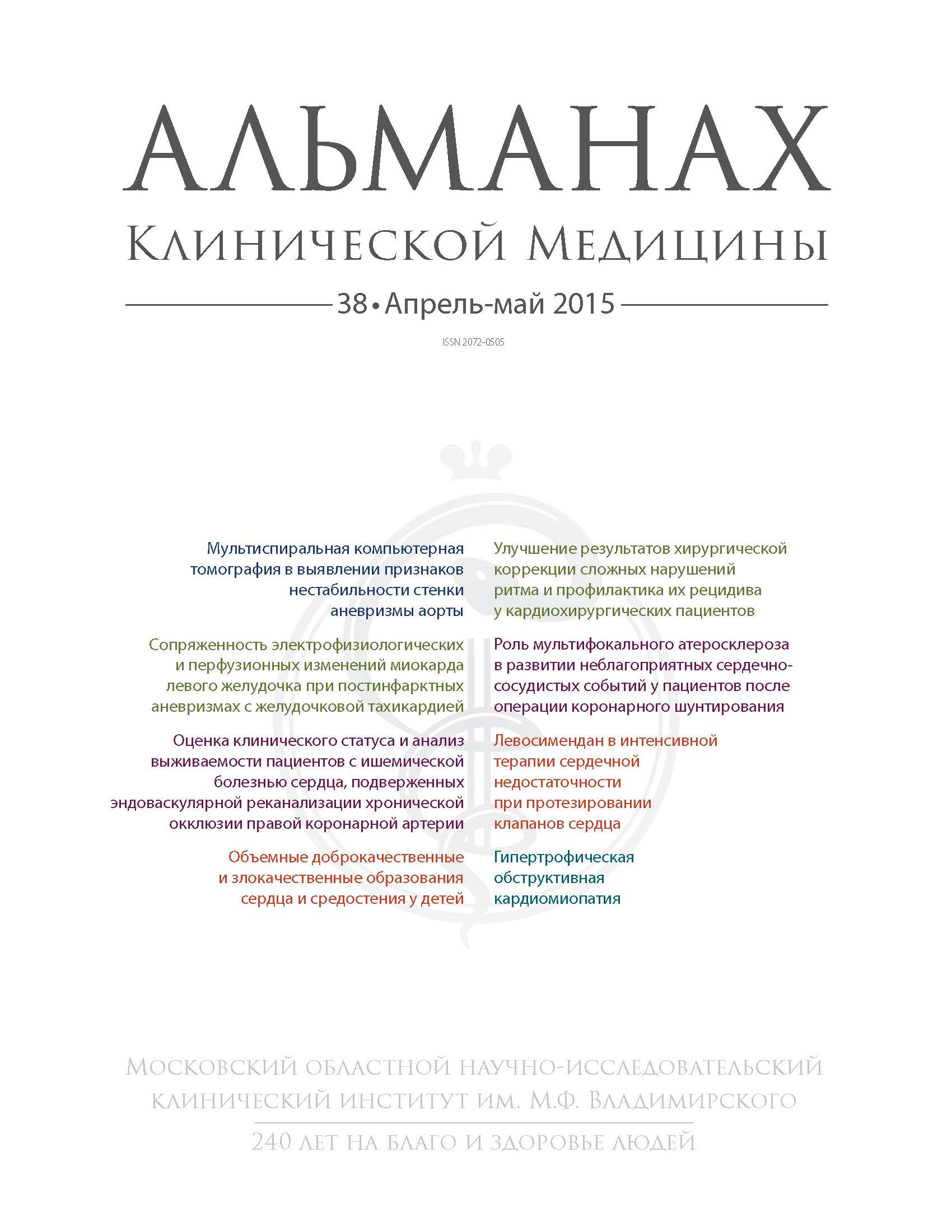 Cite item
Abstract
The annual rate of deep vein thrombosis in general population is from 5 to 9 cases per 10 000, whereas for venous thromboembolism (deep vein thrombosis and pulmonary embolism taken together) amounts to 14 cases per 10 000. To improve longterm results of therapy for thrombosis of deep veins of the lower extremities, it is important to restore venous function and outflow. Anticoagulant therapy with low weight or non-fractionated heparin preparations remains the most widely used method of management. However, total or partial thrombosis resolution under anticoagulant treatment is achieved only in 4 and 14% of cases, respectively. Thrombolysis allows for early resorption of the thrombus by means of a minimally invasive procedure with lower risk of complication. After the venous flow is restored, the aim of treatment is to prevent damage to the venous valves, venous hypertension and repeated thrombosis with development of the post-thrombotic syndrome. Compared to anticoagulation, systemic thrombolysis has the benefit of more rapid clot resorption and less damage to the venous valve. One of its serious limitations is a high bleeding risk related to higher doses of the drug administered through a peripheral vein catheter. Therefore, selective intra-clot administration of thombolytics (direct catheter thrombolysis) has been suggested as an alternative. For more effective therapy with the use of lower doses of thrombolytics, the so called pharmaco-mechanical thrombectomy has been developed. Venous stenosis hindering the venous outflow is frequently seen after direct catheter or pharmaco-mechanical thrombolysis. Angioplasty with stent placement is recommended in the cases with residual venous abnormality after successful thrombolysis and thrombectomy. 
About the authors
Moscow Regional Research and Clinical Institute (MONIKI)
Author for correspondence.
Email: osiev_ag@mail.ru

Osiev Aleksandr G. – MD, PhD, Professor, Head of Department of Cardiovascular Surgery
* 61/2–9 Shchepkina ul.,Moscow, 129110,Russian Federation. Tel.: +7 (495) 681 35 09. E-mail: osiev_ag@mail.ru 
Russian Federation
Moscow Regional Research and Clinical Institute (MONIKI)
Email: osiev_ag@mail.ru
Vishnyakova Mariya V. – MD, PhD, Head of Department of Roentgenology Russian Federation
Moscow Regional Research and Clinical Institute (MONIKI)
Email: osiev_ag@mail.ru
Gegenava Boris B. – Senior Research Fellow, Department of Сardiosurgery Russian Federation
References
Kearon C, Kahn SR, Agnelli G, Goldhaber S, Raskob GE, Comerota AJ; American College of Chest Physicians. Antithrombotic therapy for venous thromboembolic disease: American College of Chest Physicians Evidence-Based Clinical Practice Guidelines (8th Edition). Chest. 2008;133(6 Suppl):454S–545S. doi: 10.1378/ chest.08-0658.
Kearon C. Natural history of venous thromboembolism. Circulation. 2003;107(23 Suppl 1):I22–30.
Brooks EG, Trotman W, Wadsworth MP, Taatjes DJ, Evans MF, Ittleman FP, Callas PW, Esmon CT, Bovill EG. Valves of the deep venous system: an overlooked risk factor. Blood. 2009;114(6):1276–9. doi: 10.1182/ blood-2009-03-209981.
Heit JA. The epidemiology of venous thromboembolism in the community. Arterioscler Thromb Vasc Biol. 2008;28(3):370–2. doi: 10.1161/ATVBAHA.108.162545.
Meissner MH, Zierler BK, Bergelin RO, Chandler WL, Strandness DE Jr. Coagulation, fibrinolysis, and recanalization after acute deep venous thrombosis. J Vasc Surg. 2002;35(2):278–85.
Labropoulos N, Patel PJ, Tiongson JE, Pryor L, Leon LR Jr, Tassiopoulos AK. Patterns of venous reflux and obstruction in patients with skin damage due to chronic venous disease. Vasc Endovascular Surg. 2007;41(1):33–40.
Labropoulos N, Gasparis AP, Pefanis D, Leon LR Jr, Tassiopoulos AK. Secondary chronic venous disease progresses faster than primary. J Vasc Surg. 2009;49(3):704–10. doi: 10.1016/j. jvs.2008.10.014.
Prandoni P. Long-term clinical course of proximal deep venous thrombosis and detection of recurrent thrombosis. Semin Thromb Hemost. 2001;27(1):9–13.
Prandoni P, Villalta S, Bagatella P, Rossi L, Marchiori A, Piccioli A, Bernardi E, Girolami B, Simioni P, Girolami A. The clinical course of deep-vein thrombosis. Prospective long-term follow-up of 528 symptomatic patients. Haematologica. 1997;82(4):423–8.
Labropoulos N, Waggoner T, Sammis W, Samali S, Pappas PJ. The effect of venous thrombus location and extent on the development of post-thrombotic signs and symptoms. J Vasc Surg. 2008;48(2):407–12. doi: 10.1016/j. jvs.2008.03.016.
Agnelli G, Becattini C, Prandoni P. Recurrent venous thromboembolism in men and women. N Engl J Med. 2004;351(19):2015–8.
Labropoulos N, Jen J, Jen H, Gasparis AP, Tassiopoulos AK. Recurrent deep vein thrombosis: long-term incidence and natural history. Ann Surg. 2010;251(4):749–53. doi: 10.1097/ SLA.0b013e3181d568db.
Prandoni P, Noventa F, Ghirarduzzi A, Pengo V, Bernardi E, Pesavento R, Iotti M, Tormene D, Simioni P, Pagnan A. The risk of recurrent venous thromboembolism after discontinuing anticoagulation in patients with acute proximal deep vein thrombosis or pulmonary embolism. A prospective cohort study in 1,626 patients. Haematologica. 2007;92(2):199–205.
Labropoulos N, Spentzouris G, Gasparis AP, Meissner M. Impact and clinical significance of recurrent venous thromboembolism. Br J Surg. 2010;97(7):989–99. doi: 10.1002/ bjs.7156.
Prandoni P, Kahn SR. Post-thrombotic syndrome: prevalence, prognostication and need for progress. Br J Haematol. 2009;145(3):286– 95. doi: 10.1111/j.1365-2141.2009.07601.x.
Douketis JD, Crowther MA, Foster GA, Ginsberg JS. Does the location of thrombosis determine the risk of disease recurrence in patients with proximal deep vein thrombosis? Am J Med. 2001;110(7):515–9.
Comerota AJ, Aldridge SC. Thrombolytic therapy for deep venous thrombosis: a clinical review. Can J Surg. 1993;36(4):359–64.
Mahorner H. A new method of management for thrombosis of deep veins of the extremities: thrombectomy, restoration of the lumen and heparinization. Am Surg. 1954;20(5):487–98.
Fontaine R, Briot B, Vujadinovic B, Winisdoerffer B. Results, after five months, of bilateral thrombectomy in the legs for alterating venous thrombosis of a type called blue phlebitis (phlebitis with arteriospasm). Strasb Med. 1955;6(3):172–8.
Juhan C, Alimi Y, Di Mauro P, Hartung O. Surgical venous thrombectomy. Cardiovasc Surg. 1999;7(6):586–90.
Blattler W, Heller G, Largiader J, Savolainen H, Gloor B, Schmidli J. Combined regional thrombolysis and surgical thrombectomy for treatment of iliofemoral vein thrombosis. J Vasc Surg. 2004;40(4):620–5.
Mewissen MW. Catheter-directed thrombolysis for lower extremity deep vein thrombosis. Tech Vasc Interv Radiol. 2001;4(2):111–4.
Comerota AJ, Throm RC, Mathias SD, Haughton S, Mewissen M. Catheter-directed thrombolysis for iliofemoral deep venous thrombosis improves health-related quality of life. J Vasc Surg. 2000;32(1):130–7.
Enden T, Klow NE, Sandvik L, Slagsvold CE, Ghanima W, Hafsahl G, Holme PA, Holmen LO, Njaastad AM, Sandbaek G, Sandset PM; CaVenT study group. Catheter-directed thrombolysis vs. anticoagulant therapy alone in deep vein thrombosis: results of an open randomized, controlled trial reporting on short-term patency. J Thromb Haemost. 2009;7(8):1268–75. doi: 10.1111/j.1538-7836.2009.03464.x.
Semba CP, Dake MD. Iliofemoral deep venous thrombosis: aggressive therapy with catheter-directed thrombolysis. Radiology. 1994;191(2):487–94.
Elsharawy M, Elzayat E. Early results of thrombolysis vs anticoagulation in iliofemoral venous thrombosis. A randomised clinical trial. Eur J Vasc Endovasc Surg. 2002;24(3):209–14.
Mewissen MW, Seabrook GR, Meissner MH, Cynamon J, Labropoulos N, Haughton SH. Catheter-directed thrombolysis for lower extremity deep venous thrombosis: report of a national multicenter registry. Radiology. 1999;211(1):39–49.
Kasirajan K, Gray B, Ouriel K. Percutaneous AngioJet thrombectomy in the management of extensive deep venous thrombosis. J Vasc Interv Radiol. 2001;12(2):179–85.
AngioJet® mechanical thrombectomy. Available from: http://www.dvtanswers.com / Treatments/ thrombectomy.html
Bush RL, Lin PH, Bates JT, Mureebe L, Zhou W, Lumsden AB. Pharmacomechanical thrombectomy for treatment of symptomatic lower extremity deep venous thrombosis: safety and feasibility study. J Vasc Surg. 2004;40(5): 965–70.
Kim HS, Patra A, Paxton BE, Khan J, Streiff MB. Adjunctive percutaneous mechanical thrombectomy for lower-extremity deep vein thrombosis: clinical and economic outcomes. J Vasc Interv Radiol. 2006;17(7):1099–104.
Lin PH, Zhou W, Dardik A, Mussa F, Kougias P, Hedayati N, Naoum JJ, El Sayed H, Peden EK, Huynh TT. Catheter-direct thrombolysis versus pharmacomechanical thrombectomy for treatment of symptomatic lower extremity deep venous thrombosis. Am J Surg. 2006;192(6):782–8.
Perrin M. Treatment of deep vein thrombosis of the lower and upper limbs during the acute phase. Phlebolymphology. 2012;19(2):59–67.
Trellis-8 Infusion Catheter Busts DVT Clots. Technology. March 17, 2008. Available from: http://www.dicardiology.com/product/trellis8-infusion-catheter-busts-dvt-clots
Rao AS, Konig G, Leers SA, Cho J, Rhee RY, Makaroun MS, Chaer RA. Pharmacomechanical thrombectomy for iliofemoral deep vein thrombosis: an alternative in patients with contraindications to thrombolysis. J Vasc Surg. 2009;50(5):1092–8. doi: 10.1016/j. jvs.2009.06.050.
Martinez Trabal JL, Comerota AJ, LaPorte FB, Kazanjian S, DiSalle R, Sepanski DM. The quantitative benefit of isolated, segmental, pharmacomechanical thrombolysis (ISPMT) for iliofemoral venous thrombosis. J Vasc Surg. 2008;48(6):1532–7. doi: 10.1016/j. jvs.2008.07.013.
Recannalizations of occluded major veins angioplasty andstenting. Available from: http:// miamiveincenter.com/recannalizations-of-occludedmajor-veins/
Kolbel T, Alhadad A, Acosta S, Lindh M, Ivancev K, Gottsater A. Thrombus embolization into IVC filters during catheter-directed thrombolysis for proximal deep venous thrombosis. J Endovasc Ther. 2008;15(5):605–13. doi: 10.1583/08-2462.1.
Kwon SH, Oh JH, Seo TS, Ahn HJ, Park HC. Percutaneous aspiration thrombectomy for the treatment of acute lower extremity deep vein thrombosis: is thrombolysis needed? Clin Radiol. 2009;64(5):484–90. doi: 10.1016/j. crad.2009.01.002.
Comerota AJ, Gravett MH. Iliofemoral venous thrombosis. J Vasc Surg. 2007;46(5):1065–76.
Krishnamurthy VN, Greenfield LJ, Proctor MC, Rectenwald JE. Indications, techniques, and results of interior vena cava filters. In: Gloviczki P, editor. Handbook of Venous Disorders. 3rd edition. London: Hodder Arnold; 2009. p. 299–313.
Berry RE, George JE, Shaver WA. Free-floating deep venous thrombosis. A retrospective analysis. Ann Surg. 1990;211(6):719–22.
Langan EM 3rd, Miller RS, Casey WJ 3rd, Carsten CG 3rd, Graham RM, Taylor SM. Prophylactic inferior vena cava filters in trauma patients at high risk: follow-up examination and risk/benefit assessment. J Vasc Surg. 1999;30(3):484–8.
Sugerman HJ, Sugerman EL, Wolfe L, Kellum JM Jr, Schweitzer MA, DeMaria EJ. Risks and benefits of gastric bypass in morbidly obese patients with severe venous stasis disease. Ann Surg. 2001;234(1):41–6.
Thery C, Bauchart JJ, Lesenne M, Asseman P, Flajollet JG, Legghe R, Marache P. Predictive factors of effectiveness of streptokinase in deep venous thrombosis. Am J Cardiol. 1992;69(1):117–22.