FUNCTIONAL DISORDERS OF THE BILIARY TRACT IN CHILDREN AS A MULTIDISCIPLINARY PROBLEM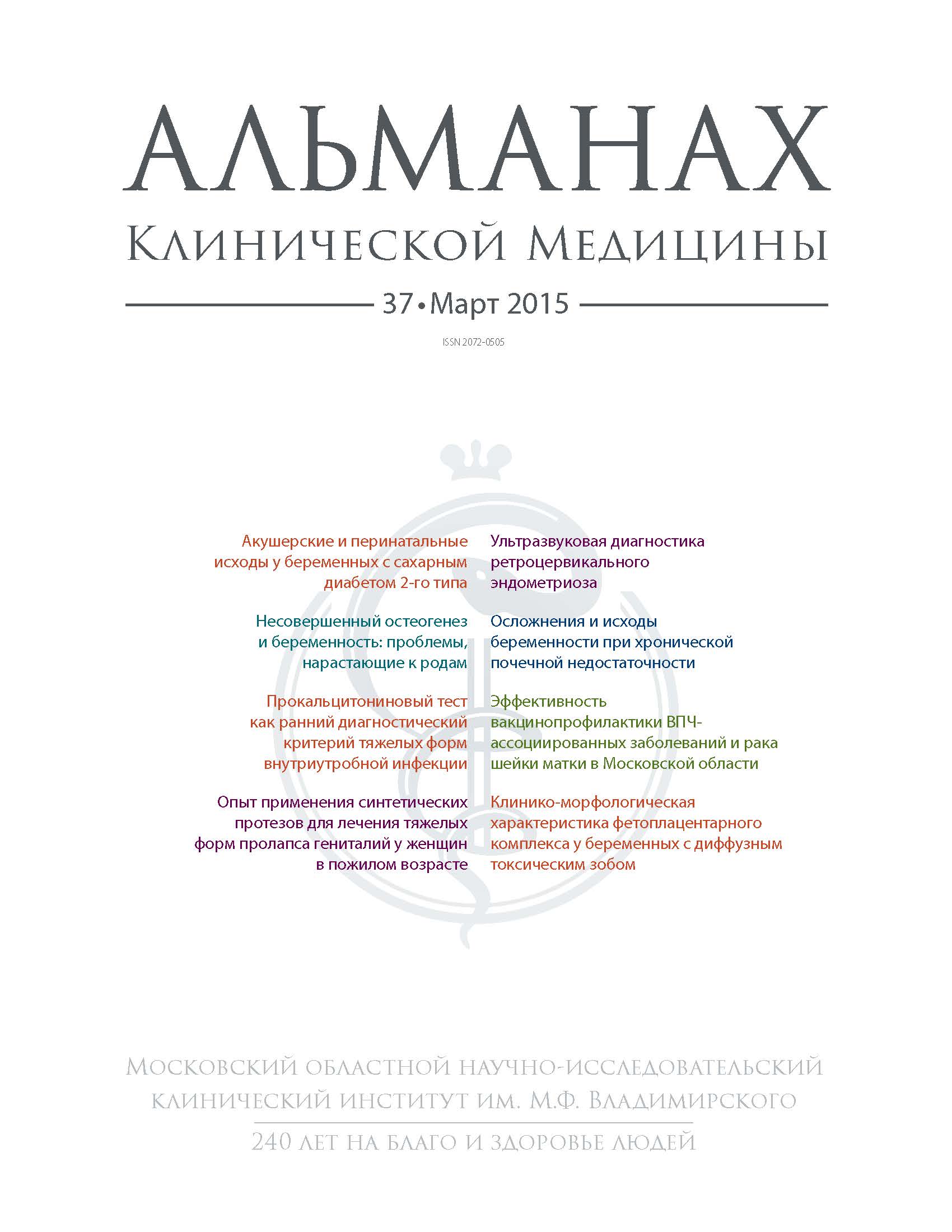 Authors: Ursova N.I.1,2
Affiliations:

Moscow Regional Research and Clinical Institute (MONIKI)
61/2 Shchepkina ul., Moscow, 129110, Russian Federation

Issue: No 33 (2014)
Pages: 47-56
Section: TOPICAL ARTICLES
Cite item
Abstract
Wide prevalence, multiplicity, great variety of etiological factors, diversity of clinical manifestations, and difficulties in registration of the gallbladder and bile ducts disorders and sphincter of Oddi dysfunction – all support the interest of internists to diagnosis
and treatment of functional biliary disorders. Taking into account clinically relevant anatomical interrelations between the organs of the choledochopancreatoduodenal zone, a possibility to develop a great variety of systemic diseases and conditions with long-term asymptomatic course it is advisable to conduct complex examination of pediatric patients with abdominal pain and dyspepsia signs. Exact syndromal diagnosis is of great importance in pediatric practice for it determines the necessity of treatment and its strategy. The tactic physician's task is a choice of a drug which provide therapeutic effect with minimum risk of toxicity.
About the authors
Moscow Regional Research and Clinical Institute (MONIKI); 61/2 Shchepkina ul., Moscow, 129110, Russian Federation
Author for correspondence.
Email: ursovan@mail.ru

MD, PhD, Professor, Head of the Pediatric Department, MONIKI; Professor of the Pediatric Chair, Faculty of Postgraduate Medical Education, MONIKI; Principal Pediatrician of the Moscow Region; the Honored Scientific Worker of the Moscow Region
Russian Federation
References
Шабалов НП, ред. Детская гастроэнтерология: руководство для врачей. 2-е изд. М.: МЕДпресс-информ; 2013. с. 243-52. (Shabalov NP, editor. 2nd ed. [Pediatric gastroenterology: handbook for physicians]. Moscow: MEDpress-inform; 2013. p. 243- 52. Russian).
Приворотский ВФ, Луппова НЕ, Румянцева ИВ. Функциональные нарушения билиарной системы у детей с деформациями желчного пузыря. Русский медицинский журнал. 2003;11(3):171-2. (Privorotskiy VF, Luppova NE, Rumyantseva IV. [Functional disturbances of biliary system in children with gallbladder deformations]. Russkiy meditsinskiy zhurnal. 2003;11(3):171-2. Russian).
Урсова НИ. Функциональные расстройства билиарного тракта у детей: современные взгляды и практические рекомендации (учебное пособие). М.: МегаПро; 2009. (Ursova NI. Functional disorders of the biliary tract in children: contemporary views and practical recommendations (manual). Moscow: MegaPro; 2009. Russian).
Урсова НИ. Дисфункциональные расстройства билиарного тракта у детей, критерии диагностики и коррекции. Consilium Medicum. Симпозиум «Механизмы регуляции желчеобразования и методы его коррекции». 2002:14-5. (Ursova NI. [Pediatric biliary disorders: diagnostic and correction criteria]. Consilium Medicum. Symposium "Regulation mechanisms of biliation and methods of its correction". 2002:14-5. Russian).
Цыбульская ИС. Медико-социальные аспекты формирова- ния здоровья детей. Тверь: Тверская городская типография; 2013. с. 233-59. (Tsybul'skaya IS. [Меdical and social aspects of children's health]. Tver: Tverskaya gorodskaya tipografiya; 2013. p. 233-59. Russian).
Тарасенко СВ, Натальский АА, Никифоров АА, Зайцев ОВ, Песков ОД, Троицкий ЕИ. Полиморфизм генов биотрансформации ксенобиотиков, TNF-α и IL-4 у больных механической желтухой. Цитокины и воспаление. 2014;(1):57-64. (Tarasenko SV, Natal'skiy AA, Nikiforov AA, Zaytsev OV, Peskov OD, Troitskiy EI. [Gene polymorphism of xenobiotic biotransformation, TNF-α and IL-4 in patients with mechanical jaundice]. Tsitokiny i vospalenie. 2014;(1):57-64. Russian).
Яковенко ЭП, Григорьев ПЯ. Хронические заболевания внепеченочных желчевыводящих путей (диагностика и лечение). Методическое пособие для врачей. М.: Медпрактика; 2000. (Jakovenko JeP, Grigor'ev PJa. Chronic diseases of extrahepatic bile-excreting ducts (diagnosis and treatment). Metodical manual for physicians. Moscow: Medpraktika; 2000. Russian).
Liddle RA. Cholecystokinin cells. Annu Rev Physiol. 1997;59: 221-42.
Mawe GM, Talmage EK, Cornbrooks EB, Gokin AP, Zhang L, Jennings LJ. Innervation of the gallbladder: structure, neurochemical coding, and physiological properties of guinea pig gallbladder ganglia. Microsc Res Tech. 1997;39(1):1-13.
Sonobe K, Sakai T, Satoh M, Haga N, Itoh Z. Control of gallbladder contractions by cholecystokinin through cholecystokinin-A receptors in the vagal pathway and gallbladder in the dog. Regul Pept. 1995;60(1):33-46.
Урсова НИ. Диагностический алгоритм и рациональная тера- пия функциональных нарушений билиарной системы у детей. Русский медицинский журнал. 2004;12(3):152-6. (Ursova NI. [Diagnostic algorithm and rational therapy of functional disorders of child biliary system]. Russkiy meditsinskiy zhurnal. 2004;12(3):152-6. Russian).
Gielkens HA, de Boer SY, Lam WF, Rovati LC, Lamers CB, Masclee AA. The role of cholecystokinin and the cholinergic system in intravenous amino acid-induced gallbladder emptying. Eur J Gastroenterol Hepatol. 1997;9(12):1227-31.
Уголев АМ, Радбиль ОС. Гормоны пищеварительной систе- мы: физиология, патология, теория функциональных блоков. М.: Наука; 1995. (Ugolev AM, Radbil' OS. Hormones of the digestive system: physiology, pathology, and theory of functional blocks. Moscow: Nauka; 1995. Russian).
Федоров НЕ, Немцов ЛМ, Солодков АЛ, Кичигина ТН, Дроздова МС. Показатели секреции холецистокинина, вегетатив ной регуляции сердечного ритма и уровень тревожности у больных с моторной дисфункцией желчного пузыря. Экспериментальная и клиническая гастроэнтерология. 2003;(3): 50-4. (Fedorov NE, Nemcov LM, Solodkov AL, Kichigina TN, Drozdova MS. [Indices of cholecystokinin secretion, vegetative regulation of heart rate and anxiety level in patients with a motor dysfunction of the gallbladder]. Еksperimental'naja i klinicheskaja gastroenterologiya. 2003;(3):50-4. Russian).
Гриневич ВБ, Сас ЕИ, Кравчук ЮА. Функциональное расстройство сфинктера Одди и стеатоз поджелудочной железы: под- ходы к терапии. Consilium Medicum. Гастроэнтерология. 2012;(1):56-60. (Grinevich VB, Sas EI, Kravchuk YuA. [Functional disturbance of Oddi's sphincter and pancreatic stenosis: therapeutic approaches]. Consilium Medicum. Gastroenterologiya. 2012;(1):56-60. Russian).
Коротько ГФ. Идеи нервизма и единство регуляторных механизмов в системе пищеварения (к 150-летию со дня рождения И.П. Павлова). Российский журнал гастроэнтерологии, гепатологии, колопроктологии. 1999;(4):61-4. (Korot'ko GF. [The ideas of nervosism and the unity of regulatory mechanisms in digestive system (to the 150th anniversary of I.P. Pavlov's birthday)]. Rossiyskiy zhurnal gastroenterologii, gepatologii, koloproktologii. 1999;(4):61-4. Russian).
Büchler MW, Uhl W, Malfertheiner P, Sarr MG, editors. Diseases of the pancreas. Basel: Karger; 2004.
Park CM, Han JK, Kim TK, Choi BI. Fat replacement with absence of acinar and ductal structure in the pancreatic body and tail. J Comput Assist Tomogr. 2000;24(6):893-5.
Урсова НИ, Харитонова ЛА. Дисфункциональные расстройства билиарного тракта. Рациональная фармакотерапия детских заболеваний. М.: Литтерра; 2007. c. 234-40. (Ursova NI, Kharitonova LA. Dysfunctions of biliary tract. Rational pharmacotherapy of pediatric diseases. Moscow: Litterra; 2007. p. 234-40. Russian).
Мирошниченко ВА, Боченина ОГ, Узун ЮВ, Падусенко ВВ. Возможности профилактики желчнокаменной болезни в условиях поликлиники. В: Материалы конференции «Актуальные проблемы абдоминальной патологии у детей». М.; 2006. с. 385-6. (Miroshnichenko VA, Bochenina OG, Uzun JuV, Padusenko VV. [Possibilities of cholelithiasis prevention in out-patients]. In: Materials of the conference "Асtual problems of abdominal pathology in children". Moscow; 2006. p. 385-6. Russian).
Шишкина СВ. Диагностика и коррекция нарушений мотор- ной функции желудочно-кишечного тракта при дисфункциональных расстройствах билиарного тракта у детей [авто- реф. дис. … канд. мед. наук]. М.; 2013. (Shishkina SV. Diagnosis and correction of gastrointestinal tract motor dysfunction in children with functional disorders of the biliary tract [author's abstract of dissertation]. Moscow; 2013. Russian).
Шашель ВА, Холопов АП, Агафонова ГА, Харитонова ЛА, Перо- ва ТЮ, Настенко ВП. Руководство по практической фитотерапии (болезни органов пищеварения). Краснодар: Периодика Кубани; 2004. с. 135-6. (Shashel' VA, Kholopov AP, Agafonova GA, Kharitonova LA, Perova TYu, Nastenko VP. Manual for practical physiotherapy (digestive tract diseases). Krasnodar: Periodika Kubani; 2004. p. 135-6. Russian).
Осипенко МФ, Волошина НБ, Литвинова НВ, Макарова ЮА, Фролов ЯА. Функциональные расстройства билиарного тракта после холецистэктомии и способы их лечения. Consilium Medicum. Гастроэнтерология. 2013;(1):27-31. (Osipenko MF, Voloshina NB, Litvinova NV, Makarova YuA, Frolov YaA. [Functional disorders of the biliary tract after cholecystectomy and methods of their treatment]. Consilium Medicum. Gastroenterologiya. 2013;(1):27-31. Russian).
Фролов ЯА, Литвинова НВ, Волошина НБ. Динамика билиарных болей после холецистэктомии. Сибирское медицинское обозрение. 2011;70(4):23-7. (Frolov YaA, Litvinova NV, Voloshina NB. [Dinamics of biliary pain after cholecystectomy]. Sibirskoe meditsinskoe obozrenie. 2011;70(4):23-7. Russian).
Drossman DA. The functional gastrointestinal disorders and the Rome III process. Gastroenterology. 2006;130(5):1377-90.
Thompson WG. The road to Rome. Gastroenterology. 2006;130(5):1552-6.
Максимов ВА, Тарасов КМ, Чернышев АЛ. Современная диагностика нарушений внешнесекреторной функции печени и моторики билиарного тракта. Практикующий врач. 1997;(10):7-12. (Maksimov VA, Tarasov KM, Chernyshev AL. [Contemporary diagnosis of disturbances of extrasecretory hepatic function and biliary tract motility]. Praktikuyushchiy vrach. 1997;(10):7-12. Russian).
Рычкова СВ. Об адекватности ультразвуковой диагностики функции желчного пузыря в детском возрасте. Русский медицинский журнал. 2003;11(3):203. (Rychkova SV. [About the adequacy of application of ultrasound in the diagnosis of gallbladder function in children]. Russkiy meditsinskiy zhurnal. 2003;11(3):203. Russian).