MULTIDETECTOR COMPUTED TOMOGRAPHY IN POSTOPERATIVE ASSESSMENT OF CAROTID ARTERIES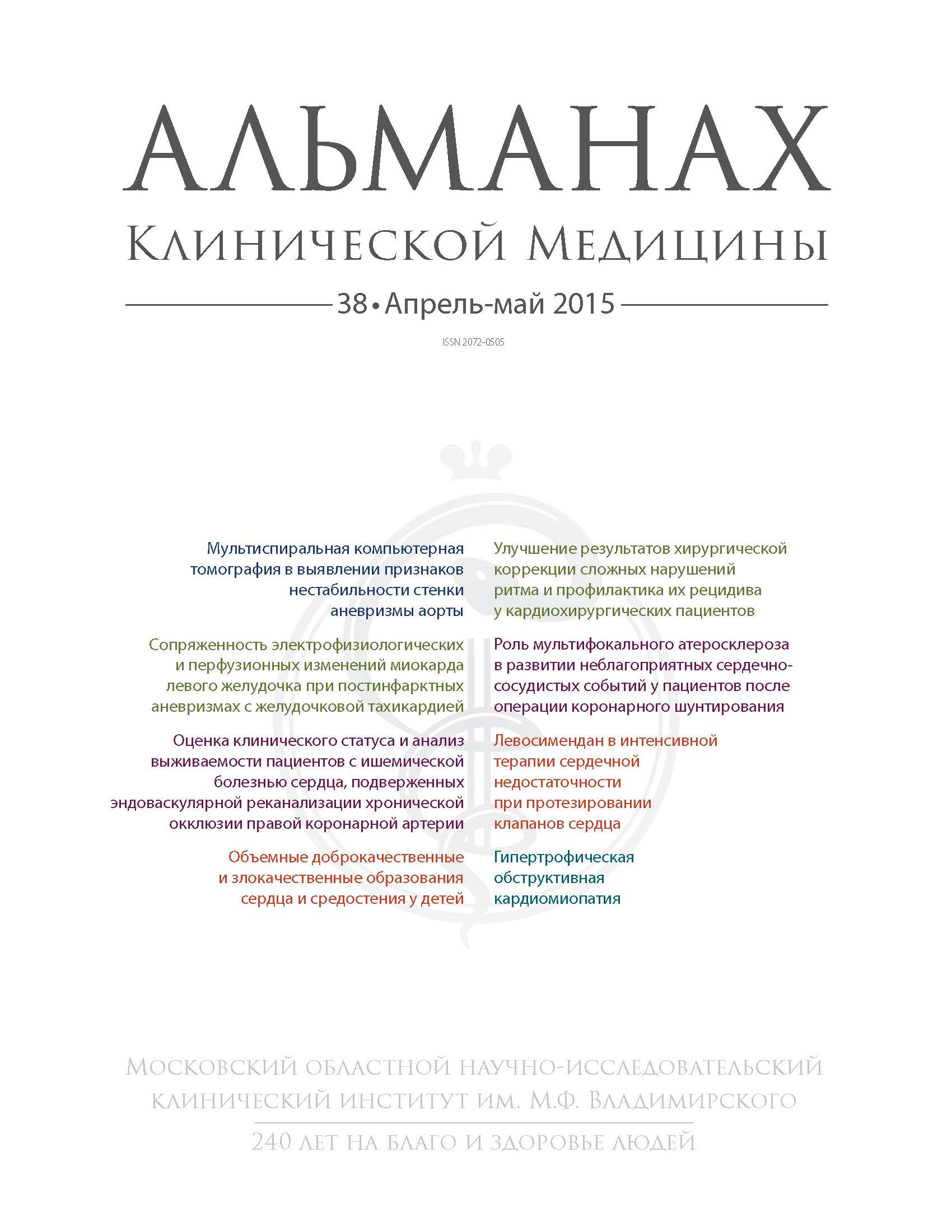 Abstract
Rationale: Carotid endarteractomy is a surgical intervention that is performed for prevention of cerebrovascular accidents, up to 80% of them being of ischemic origin, in the presence of a marked stenosis and occlusion of carotid arteries. A detailed description of specifics of postoperative changes in carotid arteries depending on the type of surgical intervention has not been published.
Aim: To evaluate internal carotid arteries in the early postoperative period by means of multidetector computed tomography (MDCT) and to match the changes detected with the type of surgical intervention.
Materials and methods: In 2014, 23 patients with atherosclerotic stenoses of internal carotid arteries were assessed in the Department of Roentgenology of MONIKI. As a part of preoperative work-up, the patients underwent ultrasound examination (USE) of the neck vasculature and MDCT with bolus contrast enhancement. Postoperative monitoring also included USE and MDCT. The data obtained were matched against the type of surgical intervention.
Results: After the eversion procedure (15 patients), there were 14 cases of expected (normal) postoperative changes and 1 case of changes that required a follow-up. After an open (classic) carotid endarterectomy (3 patients) there was 1 case of expected postoperative changes and 2 cases requiring a follow-up. Among 5 patients who underwent a resection of internal carotid artery and its prosthetic replacement, 2 patients had expected changes, 2 patients had changes that required a follow-up and 1 patient had a complication after surgery.
Conclusion: The postoperative use of MDCT for assessment of reconstructed arteries allows for identification of various types of postoperative changes, for detection of symptoms of severe complications and borderline conditions that require subsequent targeted diagnostics and monitoring. 
About the authors
Moscow Regional Research and Clinical Institute (MONIKI)
Author for correspondence.
Email: cherridra@mail.ru

Vishnyakova Marina V. – PhD, Senior Research Fellow, Department of Roentgenology
* 61/2–15 Shchepkina ul., Moscow, 129110, Russian Federation. Tel.: +7 (495) 631 72 07. E-mail: cherridra@mail.ru
Russian Federation
Moscow Regional Research and Clinical Institute (MONIKI)
Email: cherridra@mail.ru

Lar'kov Roman N. – PhD, Head of Department of Vascular and Ischemic Heart Disease Surgery
Russian Federation
Moscow Regional Research and Clinical Institute (MONIKI)
Email: cherridra@mail.ru

Vishnyakova Mariya V. – MD, PhD, Head of Department of Roentgenology
Russian Federation
References
CDC, NCHS. Underlying Cause of Death 1999– 2013 on CDC WONDER Online Database, released 2015. Data are from the Multiple Cause of Death Files, 1999–2013, as compiled from data provided by the 57 vital statistics jurisdictions through the Vital Statistics Cooperative Program. Accessed Feb. 3, 2015. http://wonder.cdc.gov/ucd-icd10.html
Mozaffarian D, Benjamin EJ, Go AS, Arnett DK, Blaha MJ, Cushman M, de Ferranti S, Despres JP, Fullerton HJ, Howard VJ, Huffman MD, Judd SE, Kissela BM, Lackland DT, Lichtman JH, Lisabeth LD, Liu S, Mackey RH, Matchar DB, McGuire DK, Mohler ER 3rd, Moy CS, Muntner P, Mussolino ME, Nasir K, Neumar RW, Nichol G, Palaniappan L, Pandey DK, Reeves MJ, Rodriguez CJ, Sorlie PD, Stein J, Towfighi A, Turan TN, Virani SS, Willey JZ, Woo D, Yeh RW, Turner MB; American Heart Association Statistics Committee and Stroke Statistics Subcommittee. Heart disease and stroke statistics–2015 update: a report from the American Heart Association. Circulation. 2015;131(4):e29–322. doi: 10.1161/CIR.0000000000000152.
Beaulieu RJ, Abularrage CJ. Carotid endarterectomy. In: Cameron JL, Cameron AM. Current surgical therapy. 11th edition. Saunders; 2014. p. 811–8.
Ricotta JJ, O'Brien-Irr MS. Conservative management of residual and recurrent lesions after carotid endarterectomy: long-term results. J Vasc Surg. 1997;26(6):963–70.
Archie JP. The endarterectomy-produced common carotid artery step: a harbinger of early emboli and late restenosis. J Vasc Surg. 1996;23(5):932–9.
Gallati CP, Jain M, Damania D, Kanthala AR, Jain AR, Koch GE, Kung NT, Wang HZ, Replogle RE, Jahromi BS. 64-detector CT angiography within 24 hours after carotid endarterectomy and correlation with postoperative stroke. J Neurosurg. 2015;122(3):637–43. doi: 10.3171/2014.10.JNS132582.
Ginat D, Westesson PLA. Atlas of postsurgical neuroradiology: imaging of the brain, spine, head, and neck. Springer Science & Business Media; 2012. 655 p.
Hashimoto BE. Pitfalls in carotid ultrasound diagnosis. Ultrasound Clinics. 2011;6(4):463–76.
Казанчян ПО, Ларьков РН, Сотников ПГ. Пути профилактики инсульта при прямой реваскуляризации миокарда: пособие для врачей. М.: МОНИКИ; 2013. 23 с.
Koncar I, Ilic N, Dragas M, Banzic I, Markovic M, Kostic D, Davidovic L. Carotid graft replacement of the stenotic carotid artery. In: Yamanouchi D, editor. Vascular surgery – principles and practice. InTech; 2012.